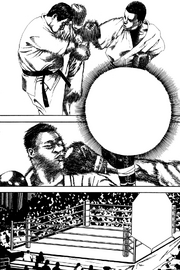 One of the forms of competition that has the least amount of restrictions possible.
1)      Victory comes by KO during the three minutes that a round lasts or by decision at the end of the second round;
2)       The combat happens in the ring with ten ounce gloves;
3)      Shots to the face and even techniques using knees and elbows are authorized.
Ad blocker interference detected!
Wikia is a free-to-use site that makes money from advertising. We have a modified experience for viewers using ad blockers

Wikia is not accessible if you've made further modifications. Remove the custom ad blocker rule(s) and the page will load as expected.