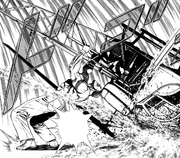 Technically known as a belly-to-back waist lock suplex or a back arch throw, the wrestler stands behind the opponent, grabs them around their waist, lifts them up, and falls backwards while bridging his back and legs, slamming the opponent down to the mat shoulder and upper back first. The wrestler keeps the waistlock and continues bridging with their back and legs, pinning the opponent's shoulders down against the mat. The regular pinning variation can be referred to as the German suplex pin. The wrestler can also release the opponent in mid arch, which is referred to as a release German suplex. Sometimes, rather than bridging for a pin, the wrestler may roll himself into another position to perform the move again, often referred to as multiple or rolling German suplexes.
Ad blocker interference detected!
Wikia is a free-to-use site that makes money from advertising. We have a modified experience for viewers using ad blockers

Wikia is not accessible if you've made further modifications. Remove the custom ad blocker rule(s) and the page will load as expected.